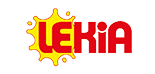 LEKIA
Open today
From 10:00 AM to 9:00 PM

08-46 00 72 90
Welcome to the world of Lekia!

We have built an exciting and inspiring store to welcome you all to the world of Lekia. In our opinion, toys are the best thing in the world! Children as adults, we all love to play and have fun.
From teddy bears, dolls and collectibles to car tracks, puzzles and pencils. These aren't just stuff. These are things that makes us dream, feel, learn and develop. That is why we at Lekia believes that toys are an important and natural part of all children's development.

Lekia is the largest toy store chain in the Nordic regions with 155 stores across Sweden and Norway. Lekia offers the best, latest, funniest and trendiest toys for kids all ages, - from babies to pre-teens! Playing is all about creating and exploring, succeed and fail. But most importantly, it's about having fun. Playing and toys are important parts of a kids educational development and when you're visiting Lekia, your kid can see, feel and squeeze whatever attracts them.
Welcome!
Opening Hours
Monday

· From 10:00 AM to 9:00 PM


Tuesday

· From 10:00 AM to 9:00 PM


Wednesday

· From 10:00 AM to 9:00 PM


Thursday

· From 10:00 AM to 9:00 PM


Friday

· From 10:00 AM to 9:00 PM


Saturday

· From 10:00 AM to 9:00 PM


Sunday

· From 10:00 AM to 9:00 PM

See all offers
*Offers are subject to availability. Offres can not be redeemed in cash. Only one offer per person and visit is allowed. Offers can not be used in combination with other offers and vouchers. Offers ar not valid on purchase of gift cards or other prepaid payment products.
---