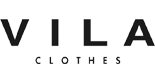 Vila
Open today
From 10:00 AM to 9:00 PM

08 518 013 30
VILA was founded in 1994 with the aim of designing trendy and feminine clothes at great prices.
VILA's design philosophy is based on three key words: sensual, fashionable, feminine. The designs feature fine prints, excellent cut and beautiful details.
Self-confident young women are at the heart of the brand and VILA collections are based on the right look – at the right price.
VILA's designs are in line with contemporary trends and aimed at young women who know what style they like but also have the self-confidence to try something new.
"Made with confidence" – for the self-confident girl.

Find the latest fashion trends from VILA such as tops, jackets, coats, jeans, dresses, skirts, pants, cardigans, bags and accessories.
Opening Hours
Monday

· From 10:00 AM to 9:00 PM


Tuesday

· From 10:00 AM to 9:00 PM


Wednesday

· From 10:00 AM to 9:00 PM


Thursday

· From 10:00 AM to 9:00 PM


Friday

· From 10:00 AM to 9:00 PM


Saturday

· From 10:00 AM to 9:00 PM


Sunday

· From 10:00 AM to 9:00 PM