AVVIKANDE ÖPPETTIDER
Många butiker har just nu avvikande öppettider vardagar 10-20 och helger 10-19. Läs mer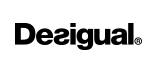 Desigual
Closed today

08 12 15 27 47
Desigual is a casual clothing brand that's known for its bright colour palette in all their clothes and accessories. Desigual is the colourful fashion for women and children.
Here you can find asymmetrical patterns, intense prints combined with elegance in clothes that give you the opportunity to stand out from the crowd! Desigual offers classic and attractive tops, wonderfully wide tunics and dresses, rebel T-shirts and denims, like you've never seen them before. The clothes will fill your wardrobe with pure art. In addition to its colourful clothing line Desigual also do home furnishing. Here you'll find pillows, sheets, pillowcases, duvet covers, blankets, bathrobes and towels.
You're welcome to come in and purchase; T-shirts, pullovers, trousers, tunics, dresses, skirts, pants, jackets, shirts, bags, and accessories.
Opening Hours
Monday

Closed

Tuesday

Closed

Wednesday

Closed

Thursday

Closed

Friday

Closed

Saturday

Closed

Sunday

Closed
Categories :