AVVIKANDE ÖPPETTIDER
Många butiker har just nu avvikande öppettider vardagar 10-20 och helger 10-19. Läs mer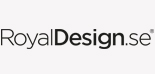 RoyalDesign.se
Open today
From 10:00 AM to 9:00 PM

08-611 03 30
The range of products from RoyalDesign.se has become a meeting place for all lovers of design.
With its 100,000 design products from 350 brands RoyalDesign.se has become the leading e-business operator in design, furniture and home furnishings. Now Royal Design has even opened shops where you'll find a full range of design products for all sections of the home. For anyone with an interest in interior design, at RoyalDesign.se you can buy anything from the latest design trends to timeless design classics. You can find everything in textiles, furniture, outdoor furniture, clocks, bathrooms, carpets, bowls, vases, cutlery, plates, candlesticks, lighting, home decor, kitchen furniture and jewellery.
We have products from brands such as; Rörstrand, Bodum, BSweden, Bugatti, Canada Goose Home, Carolina Gynnin, Cell, George Jensen, Global, DesignHouse Sthlm, Design Letter, Dyrberg/Kern, Edblad, Eva Solo, Fiskars, Frama, Gant Home, Iittalla, Höganäs, Gustavsbergs, Lase Åberg, Marimekko, OBH Nordica, Saga form, Skultuna, skandinaviskt, Stelton, Thomas Sabo, Vipp, etc.
Opening Hours
Monday

· From 10:00 AM to 9:00 PM


Tuesday

· From 10:00 AM to 9:00 PM


Wednesday

· From 10:00 AM to 9:00 PM


Thursday

· From 10:00 AM to 9:00 PM


Friday

· From 10:00 AM to 9:00 PM


Saturday

· From 10:00 AM to 9:00 PM


Sunday

· From 10:00 AM to 9:00 PM

Categories :