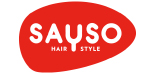 Sayso
Open today
From 10:00 AM to 9:00 PM

0841068120
NO MORE BAD HAIR DAYS!
We who work at the hairdressing salon Sayso see your hair as your most important accessory. We have expertise in treatments and products that make it possible for you to feel nice in your hair, every day! We are equally motivated to make sure that you as a customer are as happy with your hair between your visits, as you are during your visit.

Our goal is that our customers have a great hairstyle throughout the year, because we understand how important hair is for customers' identity and personality. Sayso has a mission: Your hair is my pride! We are passionate about knowledge and we love to give our customers tips and inspiration for new hairstyles, colors, care and styling.
Book your time here
Opening Hours
Monday

· From 10:00 AM to 9:00 PM


Tuesday

· From 10:00 AM to 9:00 PM


Wednesday

· From 10:00 AM to 9:00 PM


Thursday

· From 10:00 AM to 9:00 PM


Friday

· From 10:00 AM to 9:00 PM


Saturday

· From 10:00 AM to 9:00 PM


Sunday

· From 10:00 AM to 9:00 PM